Ulster's Hume is thriving after finding his self-confidence
James Hume has emerged as one of the finest players – let alone centers – in Irish rugby over the past two months.
And at 23, he is also gaining a reputation as one of the most honest speakers in the four provinces.
In November, following his Player of the Match performance against Leinster at the RDS, he spoke candidly about how difficult he had found that month's Irish camp, having watched Robbie Henshaw, Bundee Aki and Garry Ringrose get the midfield minutes.
Head coach Andy Farrell had challenged him to impress in the December and January inter-pro games and the Heineken Champions Cup, and it's a challenge he responded to with insistence.
While Ulster's Christmas schedule has been reduced due to Covid postponements, Hume has been among the best performers in every game he has played since this Autumn Nations Series.
Watching him on the pitch, it's easy to think he has the arrogance of youth; his celebration in front of Leinster fans at the RDS after his winning try caught the eye, as did his reaction to a big tackle on Gavin Coombes earlier this month, screaming and screaming after knocking Munster's number eight into touch .
But after his honest chat with the media in November, he was once again an open book when discussing his form ahead of Saturday's Heineken Champions Cup tie with Clermont Auvergne at Kingspan Stadium.
Despite being an Ireland international at 22, it took him until recent months to realize he belonged on the big stage.
"Until the start of the season I would bring him into games," he said.
"I would say, 'What if I don't play well here? What if the other players make me look stupid? What if I'm not good enough?'
"I think the weeks at Leinster and Clermont were the two weeks where I realized I could do it, and it fell a bit with Munster and Northampton.
"I felt like I could watch them and feel like I'm good enough at that level to put on a performance and it's almost like doing what I know how to do, and not stepping outside of my basic skills and what I do well."
Self-belief didn't come out of nowhere though; it is the result of a conscious effort to remember one's strengths.
"One of my real points of focus was just emphasizing at the start of each week that I needed to be confident," he said.
"Some games I would go into and just take it for granted that I'm there. I'd look at my opponent and now really appreciate how much damage I could actually do. Especially in the Leinster game, going up against Robbie like my counterpart It was a huge starting point. I had trained against this guy, I know how good he is but I also know the threat I pose to him.
"Going to Clermont and putting on a good performance against European giants is a huge confidence booster. Even if times get tough in the future, I could almost look back and think I'm more than capable of putting on a performance. there, and get back to my pillars and my bases."
Hume has played more than 50 times for Ulster since his debut in 2018, but it was August 2020 and rugby's return from recess from Covid-19 that announced him to the wider rugby public, impressing as Leinster qualified for the Pro14 final against Leinster.
"I like a bit of outside encouragement, don't get me wrong, but at the end of the day, that's not what I'm trying to impress."
He made his Ireland debut against the United States last summer and has been capped twice in the extended squad since, most recently when Andy Farrell named his 37-man Six Nations squad on Wednesday.
His performances in recent months have seen some pundits suggest he could fight his way into the race for a starting spot in the tournament, and beef up the midfield monopoly held by Henshaw, Garry Ringrose and Bundee Aki these last years.
Pundits have lined up to praise him lately, but the center says he's trying to steer clear of the reverence.
"I don't actively seek out this stuff, but if it shows up in my feed, that's good to hear.
"I kinda like outside encouragement, don't get me wrong, but at the end of the day, that's not what I'm trying to impress.
"My end goal is not to be talked about, but what I can do for the team, for myself and achieve the goals I have set for myself. It's good, don't get me wrong, but I'm trying to block out the noise on what I have to do for each week ahead."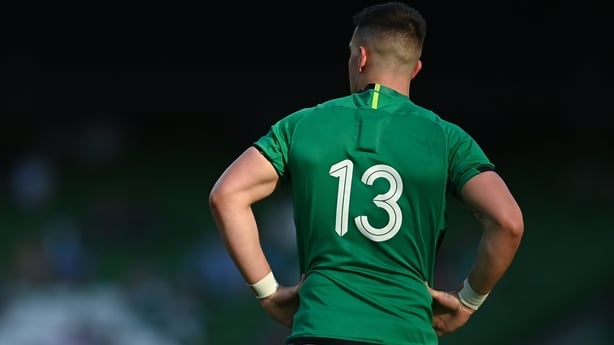 His footwork and his ability to walk closely were particularly appreciated. Hume says this trait is the only one he discovered after losing weight at Ulster Academy.
He admits it was "almost comical" how much he ate during his school days, reaching 104.6kg at one point before dropping to 96kg, which has been his fighting weight in recent seasons. The change came after a stress fracture in his foot, and a few stern words from the team nutritionist made him realize he was carrying more weight than was sustainable.
"This period allowed me to get back in shape.
"It was a big learning curve, even my girlfriend will tell you I'm so picky with my food and scared I'll eat the wrong foods and go back to that way. It's a beast on the move constant trying to get the right diet and stay fit."
While game time in the Six Nations is an obvious target, it won't hurt his chances with another big performance against Clermont.
Ulster know they are through before the final round of Pool A games, but a win would give them the home advantage in the second leg of the Round of 16, and possibly beyond.
"As Kobe Bryant once said, 'The job is not done', so we want to be in the best possible position at the end of this group stage of the European Championship, so that we can give ourselves a quarter-final at home.
"We're treating this exactly the same as every game we've had in this league so far. Full steam ahead this week, the boys are going to be ready."
Listen to the RTÉ Rugby podcast on Apple Podcasts, Soundcloud, Spotify or wherever you get your podcasts.
Follow Bath v Leinster (Saturday, 1pm), Ulster v Clermont (Saturday, 5.30pm), Stade v Connacht (Sunday, 1pm) and Munster v Wasps (Sunday, 3.15pm) via our live blogs at rte.ie/sport or on the RTÉ News app, or listen to live radio coverage of Bath v Leinster on RTÉ Radio 1 Extra and RTÉ Radio 1.