How ultramarathoner Jeff Lau conquered his most grueling race yet
Jeff Lau's experience running the Montane Lapland Arctic Ultra, known to be one of the toughest ultra races in the world, shows that no matter how perfectly prepared for something, not everything is can – not be fluid.
Since its launch in 2020, Under Armour's "The Only Way Is Through" has strived to motivate athletes around the world to work hard and improve. The main objective of the campaign relays the conviction that the only way out of a hard point is to manage it. The story of its brand ambassador – ultramarathoner Jeff Lau – is a prime example of this belief.
On a bitterly cold morning in mid-March, Jeff Lau stood on the grounds of Överkalix, having completed the grueling Montane Lapland Arctic Ultra race. The grueling 500km run took place on snowmobile trails in Swedish Lapland, where riders traversed rivers, lakes and forests in temperatures that plummeted to -30 degrees Celsius, over 10 days.
Jeff Lau has joined the race to raise money for the Malaysian Aids Foundation (MAF) Pediatric Aids Fund, which helps children living with or affected by HIV stay in school and get better. thrive through education and social support. As a red ribbon youth icon appointed by the local Ministry of Health, he has also participated in several international ultramarathons to raise funds for the MAF, including a 250 km sub-Saharan seven-stage solo race. Jeff Lau also won the coveted title of being the first Malaysian to complete the 2,260km Swiss Ultra DecaTriathlon.
After braving some of the most extreme weather conditions and unsettling sleep systems during the grueling Montane Lapland Arctic Ultra, Jeff Lau says finishing the race gave him a sense of satisfaction beyond all his expectations: "It was awful, but I'm delighted that I managed to finish the race in time!
Throughout the event, Jeff Lau was dressed in Under Armour's Cold Gear technology, specially designed by the brand to allow everyone to surpass themselves. Providing weightless warmth to athletes, Under Armour's ColdGear solves a common problem with layering to keep warm, as the added weight of clothing increases energy expenditure. Under Armor's lightweight fabric sits against the skin while keeping the body's core temperature warm, making it ideal for long-term activities.
We meet Jeff Lau to talk about the training process involved in preparing the Montane Lapland Arctic Ultra, and his personal experience of finishing the race, and how Under Armor's ColdGear helped him withstand the elements through it all , and finally brought him to the finish line.
What inspired you to join Montane Lapland Arctic Ultra in the Swedish Arctic in the first place?
It's been two years since my last ultra-Decaman race in 2019. As we slowly move into an endemic stage, I thought it was time for me to get back into an international ultra-race. It was also perfect timing. As the country continues its efforts to combat the COVID-19 pandemic, there should be continued investment and effort to support other initiatives, such as HIV treatment and HIV prevention education. . Indeed, many people are still at risk and will need our constant support.
I chose the Montane Lapland Race to get back into the game, considering it another personal achievement, especially since it's the longest distance I've run in my life (500 km). At the same time, I test my Under Armor running clothes and shoes, as they are well suited for this type of weather and ultra distances.
What was the preparation process like before an arduous race like this?
To prepare for my race, I did physical training. I am happy to say that Under Armor Malaysia has been very supportive of my running initiatives where they have supported me with the right sports education by organizing running training courses with TRAINE (Performance Institute located in Hartamas) for s ensure that I would be on the right track for the race.
What are some of the challenges you faced while preparing, after not running an ultra for two years due to lockdown?
Preparing for the race has certainly been a challenge, as we have been living in our comfort zone for two years. First, the rules for entering Sweden change every month. I had to keep rescheduling my airfares and accommodation. Secondly, preparing physically and mentally for these kinds of cold races is always quite difficult. You have to do the right kind of training and wear the right running gear, etc. Last but not least, research and study of breed structure and breeding are also important.
How was the Montane Lapland Arctic Ultra? What physical challenges have you faced and what have you done to overcome them?
Horrible, but I'm glad I managed to finish the race in time! It was physically difficult for me, especially when I had to cross frozen rivers. Apart from that, having to deal with the capricious weather due to the constantly changing conditions. There were times when it was very windy at night, or it suddenly got really hot in the afternoon. Through the forest we also had to go up and down the hill with a 30 kg sled. I had to constantly change gears to avoid sweating too much or getting too cold.
What are some of the personal expectations or goals you had set before the race?
My personal and most important goal was to finish the race without injury. I think it's crucial for any athlete to go further in their sport racing life.
You had Under Armor cold gear with you throughout the Montane Lapland Arctic Ultra. What features of the equipment have you found most beneficial to ensure maximum performance?
Getting the right running gear for the arctic race was a challenge as I couldn't find them here in Malaysia. It was extremely important to find the right race gear and the right gears that could support me throughout the race in -20°C. I was very lucky to have the support of Under Armor, as the Under Armor Europe team was able to prepare the right cold running gear for me to withstand the weather during the race.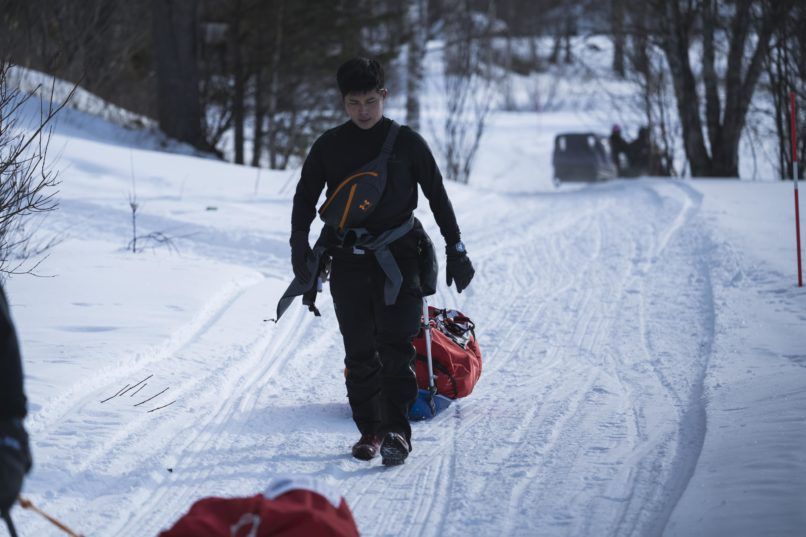 I would like to highlight these gears in particular, as I found them extremely useful throughout the run:
the UA ColdGear Rush Gray Mock incorporates infrared technology, which reflects my body's energy and has helped me work harder and recover faster. The super soft ColdGear® fabric was extremely breathable, stretched for superior mobility while keeping me incredibly warm. More importantly, it dried quickly too!
the UA CGI Down Blocked Jacket really kept me warm in cold weather and was still light enough for me to run in the snow.
the UA Cold Weather Crew the socks helped my feet stay warm and comfortable throughout the run.
What have been your greatest accomplishments in life so far?
This race was definitely the longest ultra-marathon I've done in my life, so I'd say that one! There is also another great accomplishment that I achieved just before the pandemic in 2019, when I completed the 10 Ironman race in 10 days of Decaman. It was a triathlon where we had to swim 3.8 km, cycle 180 km and run 42.2 km daily in 10 days.
What's next for you in the world of ultra running?
I plan on doing more ultra races in the future, but not currently due to COVID-19 restrictions, as well as being in recovery. But I'll be sure to let you know when I sign up for my next race!
(All photos courtesy of Under Armour)